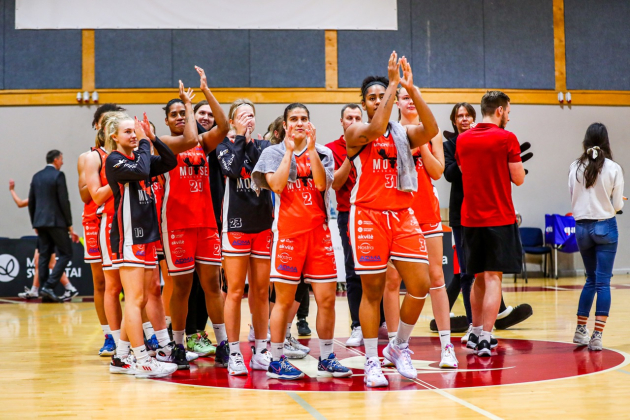 Six games were played in the Betsafe-WBBL league this week, after which the teams will have a short break due to the start of the national team break.
Only one team, LCC International University, recorded two wins this week.
The first victory was won in the Klaipėda derby when they beat Neptunas-Amberton surprisingly convincingly 69:49.
LCC International University dominated throughout the game, with the traditional duo of Lina Loceniece (22 points) and Gerda Raulusaityte (14 points, 10 rebounds, 27 EFF) leading the way.
In the opponent's camp, only one player scored in double digits - Ukrainian Viktoria Balaban scored 22 points.
In their second game, LCC International University had no trouble with Daugavpils University - 81:50.
Aistes-LSMU also played two games but only won one.
First, the Kaunas team lost to RSU in Riga 58:67. Luize Septe of the Latvian capital team played an impressive game, doing everything on the court. The guard scored 15 points, grabbed 7 rebounds, made 7 assists, and stole 6 balls.
On the other end, also very versatile performance of Karolina Kazociunaite was not enough to save the Kaunas team. The forward scored 16 points, grabbed 5 rebounds, made 4 assists, and stole the ball 4 times.
Two days later, Aistes-LSMU traveled to Jurmala and won there 77:57. It was the first home game for the Jurmala team, and the hosts arranged a real basketball feast.
All 10 players of the Kaunas team scored points, and two of them managed to achieve double-doubles. Gintare Paulauskaite scored 15 points and grabbed 11 rebounds, while Gedvile Savostaite scored 12 points and also had 11 rebounds.
Once again, Zozefine Sipolina was the leading scorer for the Jurmala team. The guard scored 26 points for her team, but no other host player managed to score in double digits.
In Siauliai, Siauliai-Vilmers and Panevezys met, both teams having won and lost once before. The league debutants put up a serious fight against the more experienced hosts, but Siauliai-Vilmers celebrated an 82:69 win.
Mercy Wanyama was particularly useful to the winners. The Kenyan center scored 16 points and grabbed 14 rebounds (31 EFF). Cassidy Mihalko once again scored the most points for the Šiauliai team (22).
The best performers for the Panevėžys team were Migle Kisarauskaite (14 points, 7 rebounds) and Kriste Timofejeva (13 points, 11 rebounds).
In the last game of the week, the silver medalist Kibirksis defeated Liepaja/LSSS 86:60 in Vilnius. The experienced Ukrainian Taisiia Udodenko scored 16 points for the winners, while Madara Smite was the best for the guests with 19 points.