In the Betsafe-WBBL championship, which is gaining momentum, 5 more matches were played during the week.
Liepaja/LSSS defeated Daugavpils University 68:47 (18:10, 24:18, 17:10, 9:9) in a dominant performance. Liepaja/LSSS jumped out to an early lead and never looked back. They led by as many as 23 (36:13) points in the first half and cruised to victory in the second half.
Raivita Korenika led the way for Liepaja/LSSS with an impressive performance, contributing 17 points and 15 rebounds, resulting in a remarkable efficiency rating of 26. Sabine Lipe added 12 points and 7 rebounds, while Madara Smite also chipped in with 11 points, 3 rebounds, 4 assists, and 3 steals.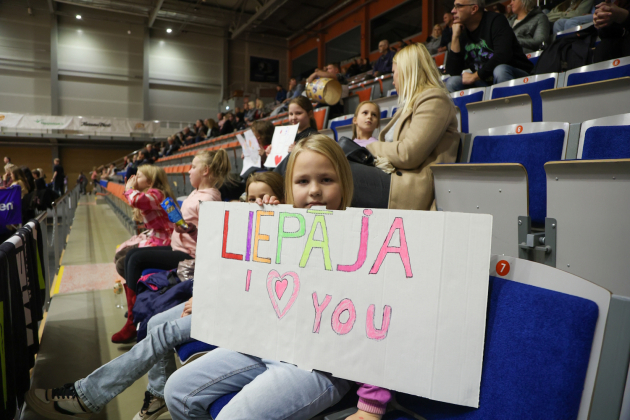 Daugavpils University struggled to get their offense going throughout the game. Valerija Baranovska led the way for Daugavpils University with 11 points, while Anna Liepina added 3 points, 12 rebounds, and 3 blocked shots.
On the same day, RSU defeated Jurmala 71:70 (11:17, 19:21, 24:26, 17:6) in a thrilling comeback victory. Jurmala led by as many as 13 points in the third quarter, but they couldn't hold on.
Despite Jurmala leading 65-70 with 1:30 to play, RSU scored 6 consecutive points to snatch the victory. The game-winning basket came from Luize Septe with only 18 seconds left.
RSU's defense was key in their comeback. They held Jurmala to just 6 points in the final quarter.
Septe led the way for RSU with 13 points, 7 rebounds, 7 assists, and 3 blocked shots. Anita Mikelsone and Una Steinharde added 13 points apiece.
Jurmala was led by Žozefīne Sīpoliņa, who scored 29 points. Nikola Ozola contributed significantly with 22 points, 5 rebounds, and 5 assists.
In the next three games, three Lithuanian teams playing at home celebrated convincing victories. Neptunas-Amberton beat Riga Juniores/LU 69:51 (19:8, 24:10, 9:18, 18:15), LCC International University defeated the same opponents 106:69 (32:18, 31:21, 16:16, 27:14), and Siauliai-Vilmers beat Liepaja/LSSS 116:76 (33:14, 33:20, 24:19, 26:23).
On Friday Juste Mockeviciute led the way for Neptunas-Amberton with 17 points, while Brigita Sinickaite added 12 points, 6 rebounds, 5 assists, and 4 steals.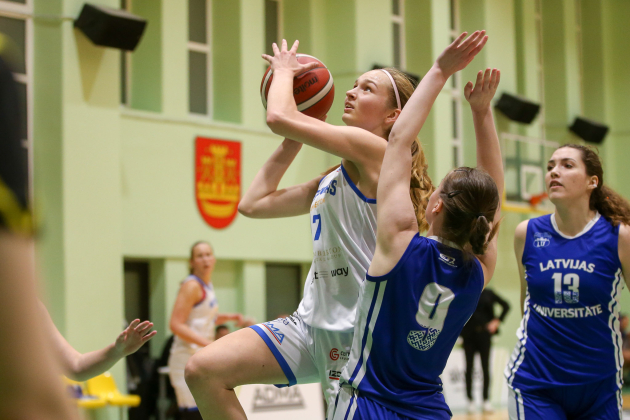 Justė Mockevičiūtė
Liva Hermane led the way for Riga Juniores/LU with 14 points, while Sarlote Petersone added 13 points and 7 rebounds.
The next day, 19-year-old Gerda Raulušaitytė was unstoppable for the LCC team, scoring a whopping 39 efficiency points. The forward scored 28 points (10/11 two-pointers) and grabbed 6 rebounds.
Maisa Pereira Dias contributed to the victory with 14 points, 7 rebounds, and 6 assists.
Sarlote Petersone had another solid performance for the Riga team, scoring 25 points and grabbing 5 rebounds. Kate Kondratjeva added 15 points.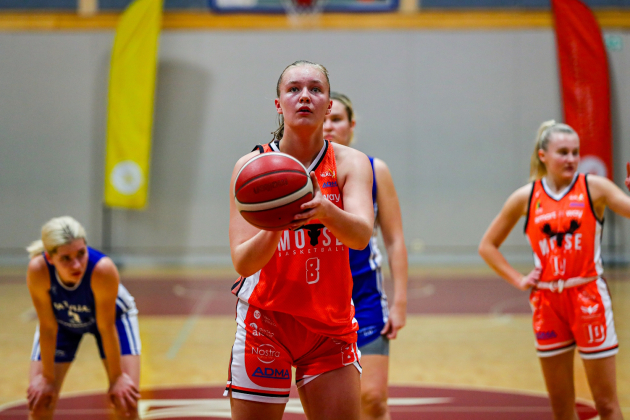 Gerda Raulušaitytė
On the last day of the week, Cassidy Rose Mihalko had an incredible performance for Siauliai-Vilmers, scoring 30 points, grabbing 6 rebounds, dishing out 8 assists, and recording 3 steals and 1 blocked shot in 37 minutes of play. She shot 8/10 from the field, 3/4 from three-point range, and 11/11 from the free throw line for a 50 efficiency rating.
A total of 7 players from the Šiauliai team scored in double digits, and Erika Matiukaitė finished the game with a double-double - 12 points and 11 rebounds.
For the Liepaja team, the most productive players were Sabine Lipe (29 points and 8 rebounds), Sanija Brikmane (14), and Madara Smite (13).