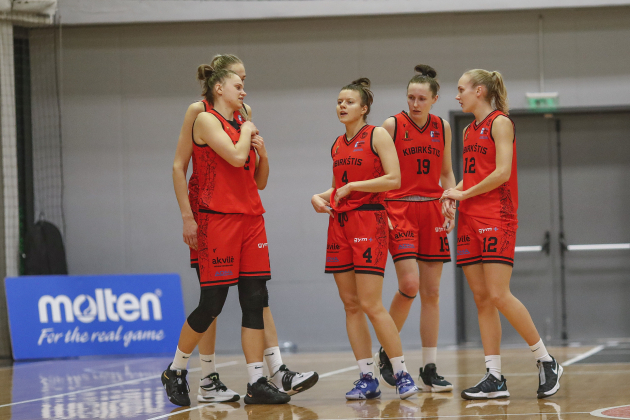 The Women's Baltic Basketball League saw nine games taking place last week.
Women BBL action tipped off in Kaunas, where Aistes Kaunas (13-7) could not defend their home fortress against league-leading Kibirkstis Vilnius (18-2). The team from the Lithuanian capital got the cruising 86-67 (29-20, 18-23, 24-9, 15-15) win on the road.
A strong third quarter and a casual stellar performance by Gintare Petronyte paved the way for the W. Petronyte was one rebound away from a double-double, finishing the game with 24 points, 9 rebounds, 3 assists, and 31 EFF.
On the same day, the battle in the middle of the table took place in Klaipeda, where the hosts Neptunas (12-6) overcame Siauliai-Vilmers (6-14) in a high-scoring match, 91-78 (22-23, 19-25, 26-15, 24-14).
Agne Cerneckyte posted 20 points, 3 rebounds, 7 assists, and 23 EFF. Morgan Lenahan dropped a game-high 30 points on the other side, but that was not enough.
In their second game last week, Kibirkstis Vilnius blew out visitors from Latvia, Liepaja/LSSS (10-11), winning the home match by a 40-point margin, 90-50 (22-17, 22-11, 20-10, 26-12).
Who else if not Gintare Petronyte was the player of the game. She registered a strong double-double of 22 points, 11 boards, and 36 EFF.
Next, TTT Riga (13-7) defeated LCC Klaipeda (9-11), 69-58 (16-12, 10-14, 32-12, 11-20), at home.
The winners were led by Gunta Basko and Dekeiya Cohen. They combined for 33 points and 27 rebounds.
Petronyte-less Kibirkstis Vilnius came back for their third appearance in the Women BBL last week. This showcase was the most powerful one, as Kibirkstis crushed last-place Audentes Tallinn (0-15), 104-39 (28-9, 26-8, 19-14, 31-8).
Gerda Raulušaitytė took Petronyte's leadership role into her hands and finished the duel with 22 points, 12 rebounds, and 37 EFF.
Later, two teams that find themselves at the bottom of the standings met each other in the game in Daugavpils. Daugavpils University (4-15) eased past BJBS Riga (2-17), 76-54 (17-9, 13-19, 24-8, 22-18), and increased the gap between the squads.
Viktoriya Babych recorded a double-double of 20 points, 12 rebounds, and 32 EFF.
In another contest, top-echelon team Rigas Stradina University (17-1) left no chance for LCC Klaipeda, beating the visitors 73-53 (22-8, 19-10, 21-17, 11-18).
Enija Viksne scored 12 points and dished out 11 dimes during her time on the court to get the Player of the Game status with 22 EFF.
Last Sunday's early tip-off saw TalTech Tallinn (11-9) overcoming Liepaja/LSSS 74-55 (19-19, 16-20, 17-7, 22-9).
Annika Koster registered an all-around performance of 19 points, 9 boards, and 8 assists for 33 EFF.
Last but not least, TTT Riga delivered another crushing loss to winless Audentes Tallinn, 104-50 (24-19, 27-4, 19-12, 34-15).
Dominyka Paliulyte was playing in a quadruple-double rhythm, finishing the game with 24 points, 8 rebounds, 6 assists, 9 steals, and 38 EFF.