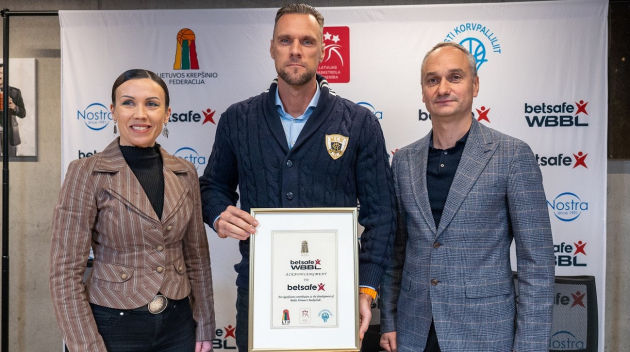 Baltic Women's Basketball League welcomes the new year with new changes. The Lithuanian Basketball Federation takes over its leadership, while the well-known company in Lithuania --Betsafe -- has become the new title sponsor.
On Monday, the head of the Women's League, Rima Valentiene, the general secretary of the Lithuanian Basketball Federation, Mindaugas Balciunas, and the director of Betsafe, Aurimas Silys, gathered in Kaunas to sign the new 3-year agreement between the Baltic Women's League and Betsafe.
"I want to thank you for your trust. Baltic countries' basketball federations and leagues' goal is to make the Baltic Women's Basketball League special," Balciunas said of the new partnership. "We fully understand that cooperation in women's basketball is inevitable and it brings new opportunities. It increases the market, as well as the number of strong teams, and Lithuania will deservedly be the leader in the development of this project. Now we are looking at how to organize the entire system in the Baltic region so that the women's teams of Lithuania, Estonia, and Latvia can integrate together in the long term."
Betsafe representative Silys also believes this partnership will help the Baltic championship grow in the coming years.
"Betsafe is one of the leaders in sports betting in Lithuania. Sports sponsorship is not something new for us. We support many different sports disciplines, federations, leagues, and individual athletes. It's great that we can contribute to the growing women's basketball," Silys said. "We were interested in partnership because it is not a one-day, but a long-term project. We hope our support for Baltic women's basketball will help it grow."
The head of the Latvian Women's Basketball League, Liga Goldmane, and the representative of the Estonian Women's Basketball League, Kaarel Sibul, also rejoiced new sponsors at the press conference.
The general secretary of the Lithuanian federation told all those present about the vision, which will aim to raise the level of basketball in the Baltic region.
"We want to strengthen structures, personnel, coaches' qualification, and attract as many experienced coaches as possible," Mindaugas Balciunas explained. "We have calculated that at least 150 thousand euros are needed so that we could have a professional preparation process. If the club has such an amount of money, then the players can receive at least one thousand euros in salary. In this case, young girls would not have to put in additional work and could only think about a basketball career."
This season, 12 teams compete in the Baltic championship. Among them are five Lithuanian and Latvian teams and two Estonian clubs.