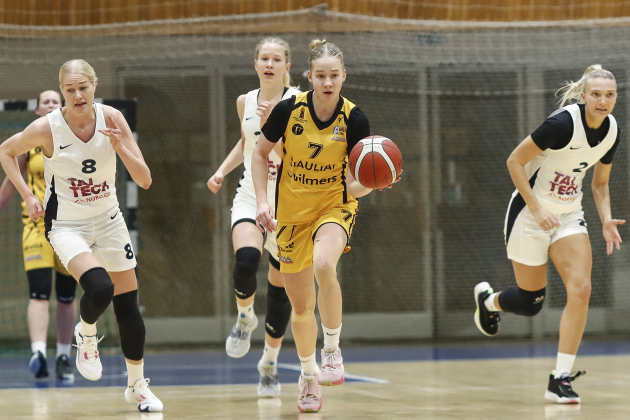 One more week of the Women's Baltic Basketball League has passed with 5 matches on our radar during the last week.
With a record of 7 wins and 5 losses, Liepaja/LSSS matched up against two neighbors in the standings this week. First, the Latvian girls welcomed TTT Riga, who previously held a record of 6-and-6.
However, Liepaja was outclassed from the very beginning, losing the first quarter by 13 (12:25). The home team lost all four of the quarters on its way to a 31-point defeat - 47:78 (12:25, 12:14, 12:16, 11:23).
Marta Krista Miscenko led the Riga roster with 11 points and 14 rebounds for 22 PIR.
On the other side of the court, Paula Klescova was the top scorer with 10 points and 11 rebounds.
Three days later, Liepaja travelled to Lithuania's port of Klaipeda to face off against LCC Klaipeda. The match didn't go much better as the Latvian girls lost all four quarters this time as well en route to a 45:71 (10:19, 13:17, 11:13, 11:22) defeat.
Maiara Pereira Dias was the leader of the home team with 15 points and 14 rebounds, while Lina Locenience was the game's top scorer with 18 points.
Paula Klescova was once again the most efficient Liepaja player with 12 points and 10 boards during the game.
The most nail-biting match of the week came in on Friday where previously-victorious TTT Riga welcomed Kibirkstis Vilnius.
The Latvians got off to a better start and already led by 9 with two minutes remaining in the first quarter (22:13). Even though the home squad led by those same 9 points in the middle of the second quarter (34:25), Kibirkstis went on an impressive 13:2 run to take their first lead since the middle of the first quarter.
The third quarter belonged to the guests who held a 9-point lead of their own after 30 minutes (56:47). Nevertheless, TTT battled back and minimized the deficit to just a single point (61:62) after Tina Grausa's jumper with 3 minutes left in the game.
However, turnovers and missed shots did not allow TTT to take the victory, and Kibirkstis captured their 4th win in a row - 66:64 (16:27, 22:13, 18:7, 10:17).
Gabriele Sulske was the top scorer of the match with 19 points. Gintare Petronyte added 12 points, 7 rebounds, 4 assists, 4 blocks, and 10 drawn fouls for a game-leading 31 PIR.
Kate Vilka led Riga's team with 18 points, while Gunta Basko finished the game with 17 points, 6 rebounds, and 5 steals for 22 PIR.
The two remaining matches featured TalTech Tallinn going up against two Lithuanian teams on Saturday and Sunday. First, the Estonian girls travelled to Kaunas to play against Aistes Kaunas.
Although the two teams were neighbors in the standings, the Lithuanian squad dominated throughout the entire game on its way to an easy 83:47 (22:16, 26:10, 21:12, 14:9) victory at home.
Tyra Marie Buss put up a scoring clinic, making 6 three-pointers on her way to a 25-point day. Annika Koster was the only player to score in double digits on the Estonian roster with 11 points and 12 rebounds.
A much more competitive match awaited the TalTech squad the next day when they squared up against Siauliai-Vilmers.
Although the Estonian girls trailed by 13 points at the half (30:43), they slowly but surely inched their way toward only a 5-point deficit with 2 minutes remaining in the fourth quarter.
Ruta Stipra's and-one basket was answered with a Sofia Kosareva triple but calmer nerves prevailed, and the home team was triumphant again - 79:74 (19:11, 24:19, 20:23, 16:21).
Annika Koster once again dominated under the basket for TalTech. This time, the forward scored 22 points, grabbed 17 rebounds, made 7 steals, and drew 7 fouls for a whopping 42 PIR but it was not enough for a road win.
Danguole Pupkeviciute was the game's top scorer with 23 points, 4 rebounds, 4 assists, and 4 steals.
Ruta Stipra added a double-double of 16 points and 11 rebounds, Morgan Leneham finished the game with 13 points and 11 assists.
After another week of action, Aistes Kaunas continue to lead the WBBL standings with 10 wins and 5 losses. However, the Lithuanian team has played more games than some of its counterparts which allows it to have the points advantage.
Rigas Stradina University remain undefeated with all 10 wins in their account.
Kibirkstis Vilnius have the second-best win percentage of 10 wins and 2 losses, while Neptunas Klaipeda boast a record of 10 wins and 3 losses.