TTT Riga were the underdogs coming into the Women's Betsafe BBL Final Four. However, the highest-seeded teams do not always end up winning the trophy, and the club from Latvia proved it.
After eliminating Aistes Kaunas from the title contention in the quarterfinals, TTT Riga met the regular season winners Rigas Stradina University. Unexpectedly, the underdogs controlled the game throughout the entire 40 minutes and earned themselves a solid 25-point win in the first semifinal - 73:48.
In the second semifinal, Kibirkstis Vilnius overcame Neptunas Klaipeda, setting up a rematch of the last year's final.
The game started on a disappointing note as Gabriele Sulske injured her knee and had to leave the match prematurely. However, the Lithuanian team didn't seem to be bothered by it, winning the first quarter by 21:15.
Sulske returned to the court in the third quarter after receiving medical care from the team's personnel, and Kibirkstis had a record 16-point lead following Rachel Theriot's points (59:43).
However, TTT Riga fought back and were just one shot away from tying the game with 4 minutes left (60:63), ultimately tying the score two minutes later (66:66).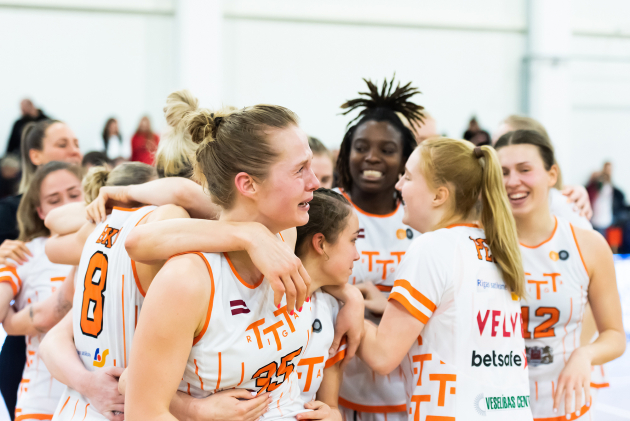 During the last minute, the previously-injured Sulske stood at the free-throw lines two separate times, making one shot each. Down by two (66:68) and with 15 seconds remaining, TTT Riga had a chance to win the game.
Ilze Jakobsone drove to the basket and kicked out the ball to Gunta Basko who stood wide open in the corner. The Latvian had previously made just one shot in 12 attempts but that didn't matter. Basko nailed a three-pointer from the corner with just over a second remaining.
The last possession from Kibirkstis was not successful and TTT Riga captured the Women's BBL trophy for the second year in a row.
Dekeyia Cohen became the Finals MVP, recording 18 points, 19 rebounds, and 5 steals for 28 PIR in the final. Kate Vilka was the top scorer on the winning side with 25 points. On the other side of the court, Gintare Petronyte gave her all, finishing the game with 23 points, 13 rebounds, and 37 PIR.
Besides Cohen, Vilka, and Petronyte, Viktoria Balaban (Neptunas Klaipeda) and Mara Mote (Rigas Stradina University) were named into the tournament's Top 5.
Rigas Stradina University took the bronze after defeating Neptunas Klaipeda 71:62.