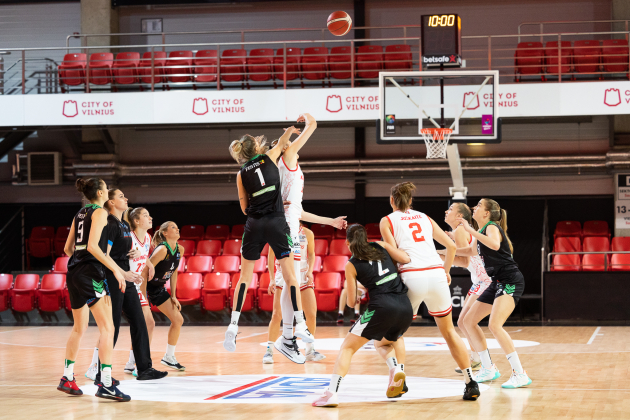 The Women's Baltic Basketball League witnessed five-game action last week.
Everything started in Vilnius, where two Women BBL powerhouses met each other in an important showdown. However, second-placed Rigas Stradina University (18-2) were no match for league-leading Kibirkstis Vilnius (19-2).
Gintare Petronyte-led Kibirkstis crushed the visitors by 37 points, 83-46 (27-17, 24-8, 19-11, 13-10). Petronyte posted 25 points on nearly perfect shooting from the two-point zone (9/10 2PT), also adding 7 rebounds, 1 assist, and 1 block for a game-high 36 EFF.
Next, hosts Neptunas Klaipeda (13-6) reduced the gap between them and Aistes Kaunas (14-8) by defeating the guests 84-64 (19-12, 22-19, 20-17, 23-16).
Five Neptunas players scored in double digits, with Saule Mikelionyte grabbing the MVP of the Game status. She finished a victorious effort with 13 points, 3 boards, 4 assists, and 18 EFF.
In another game, BJBS Riga (2-18) could not use their home-court edge against TalTech Tallinn (12-9), losing the game 59-89 (16-17, 15-27, 12-27, 16-18).
Annika Koster registered a double-double for the winners with 19 points, 10 rebounds, 5 assists, and 28 EFF.
Aistes Kaunas recovered after a loss to Neptunas in the second game of the last week. Aistes achieved a comfortable 74-51 (24-21, 18-10, 22-12, 10-8) victory over Daugavpils University (4-16) at home.
Tyra Marie Buss shined, playing a very effective game. She recorded 18 points, 3 assists, 4 steals, and a game-high 23 EFF in 18 minutes.
Last week's action was capped off in northern Lithuania, where the hosts Siauliai-Vilmers (6-15) suffered a heavy 46-67 (10-20, 19-21, 11-13, 6-13) loss vs. Rigas Stradina University, who returned to a victorious way.
Enija Viksne made a difference for the winners, accumulating a near triple-double of 18 points, 8 rebounds, and 9 assists for a PIR of 31.