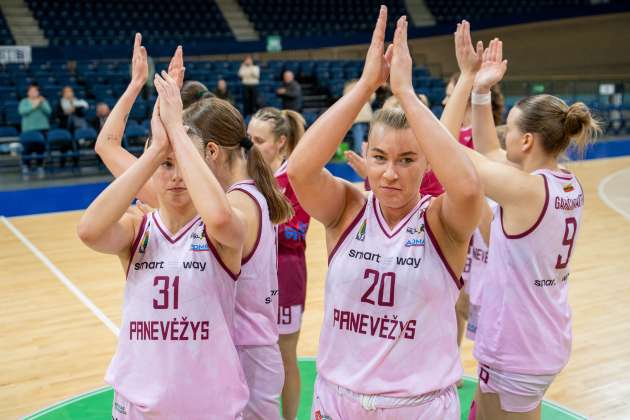 In the past week, 9 Betsafe-WBBL games were played, with a variety of events taking place - convincing victories, incredible comebacks, impressive individual performances, and even a triple-double.
Both teams from Klaipeda recorded two wins. Neptunas-Amberton (3-0) defeated Liepaja/LSSS (2-3) 74:64 on the road and then beat TTT-Juniores (0-3) 106:40 at home. Viktoria Balaban was the leading scorer for the winners in both games, scoring 27 and 24 points, respectively.
Meanwhile, LCC International University (3-0) defeated RSU (2-2) 95:58 on the road and then TTT-Juniores 106:40 at home.
Gerda Raulusaityte put on an impressive performance in Riga, earning 45 efficiency points (23 points, 12 rebounds, and 5 assists).
In Klaipeda, Dominyka Paliulyte had a fantastic game, recording the first triple-double of the season. The point guard scored 10 points, dished out 10 assists, and grabbed 11 rebounds. This was just the fourth triple-double in league history and the first to include a double-digit number of steals.
Another historic event was Panevezys' (1-1) first win. The team from the north of Lithuania defeated Daugavpils University (1-4) 93:90 at home in overtime. Urte Bukauskaite (24 points and 13 rebounds) and Kriste Timofejeva (19 points and 16 rebounds) led the team to its first victory.
Silver medalists Kibirkstis (1-0) and Aistes-LSMU (1-0) also won their first games of the season. The former defeated Daugavpils 91:66 on the road, while the latter defeated Panevezys 67:51 at the opponent's court.
TTT-Riga (3-0) also continued its winning streak, beating Siauliai-Vilmers (1-1) 91:66 on the road.
In another game, RSU pulled off another impressive comeback. They trailed Liepaja/LSSS by 16 points (27:43) after three quarters but managed to win the game 49:46.
Teams will have another busy schedule ahead of them this week. We invite you to come to the arena and support the players.