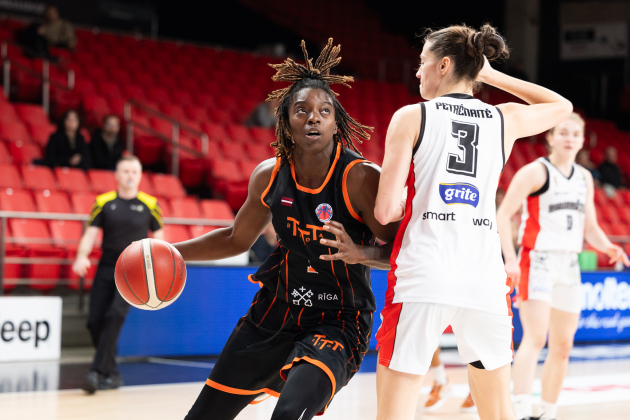 After a week of exciting basketball action, only two teams remain unbeaten in the Betsafe-WBBL: LCC International University (7-0) and TTT-Riga (5-0).
Kibirkstis suffers first defeat
The week's highlight was last season's final rematch between Kibirkstis Vilnius and TTT-Riga. Kibirkstis was looking to avenge their loss in the championship game, but TTT-Riga was too much to handle. They cruised to an 85-49 victory, with Margaux Claveau leading the way with 15 points. Dekeiya Cohens showcased all-around excellence with 14 points, 8 rebounds, 6 assists, and 3 steals (28 efficiency rating).
Egle Zabotkaite was the lone bright spot for Kibirkstis with 13 points and 7 rebounds.
On the weekend, TTT-Riga secured a 75-48 victory over Liepaja/LSSS, while Kibirkstis bounced back with a 75-48 win against RSU.
LCC International University continues dominance
LCC International University continued their impressive start to the season with two more wins. They defeated Panevezys 90-60 and Jurmala 84-51.
In their matchup against Jurmala, four players reached double figures, with Dominyka Paliulytė leading the way with 19 points. Gerda Raulusaityte added 17 points, Maiara Pereira Dias contributed 12 points, and Lina Loceniece chipped in with 10 points.
The pattern continued in their game against Panevezys, with Lina Loceniece taking charge and scoring 20 points. Maiara Pereira Dias added 16 points and 8 rebounds, while Dominyka Paliulyte and Gerda Raulusaityte also made significant contributions with 15 and 14 points, respectively.
Midweek results set the stage for an intriguing weekend
On Wednesday, Aistes-LSMU Kaunas faced off against Liepaja/LSSS, coming out on the short end of a 61-65 defeat. Aistes-LSMU struggled to find their offensive rhythm, allowing Liepaja/LSSS to secure their third win of the season.
Gintare Paulauskaite led Aistes-LSMU with an impressive performance, scoring 17 points and grabbing 12 rebounds (35 efficiency rating), while Karolina Kazociunaite added 13 points, and Gintare Mazionyte and Eva Pernavaite contributed 12 and 11 points, respectively.
For Liepaja/LSSS, Raivita Korenika played a pivotal role with 17 points and 8 rebounds, while Sabine Lipe added 13 points.
The following day, Riga Juniores/LU faced Siauliai-Vilmers in a closely contested battle that ended with an 86-81 victory for Siauliai-Vilmers.
Franciska Treiliha shone for Riga Juniores/LU with 27 points (30 efficiency rating), supported by Liva Hermane's 18 points and Sarlote Petersone's double-double with 11 points and 10 rebounds.
Siauliai-Vilmers was led by Cassidy Mihalko with 22 points, Valeria Aleksieva with 20 points, and Iva Plamenova with 16 points.
Sunday's matchup between Aistes-LSMU and Siauliai-Vilmers provided a thrilling conclusion to the week's action. In a closely contested game, Aistes-LSMU emerged victorious with a 79-74 scoreline.
Livija Kaktaite led the winners with 19 points, supported by Gintare Mazionyte's 15 points and a double-double from Karolina Kazociunaite with 14 points and 10 rebounds.
Siauliai-Vilmers had strong performances from Cassidy Mihalko (22 points) and Mercy Wanyama (18 points, 11 rebounds).
Daugavpils University earns second win
Meanwhile, Daugavpils University secured their second win of the season by defeating TTT Juniores Riga 84-64.
Kinga Piedel led the way for Daugavpils University with a dominant performance, recording 23 points, 9 rebounds, 6 assists, and 2 steals for an efficiency rating of 36. Tamirise Simonova added 17 points to the winning effort.