In the Betsafe-WBBL, TTT-Riga recorded its second victory, while the teams from Liepaja and Daugavpils celebrated their first wins.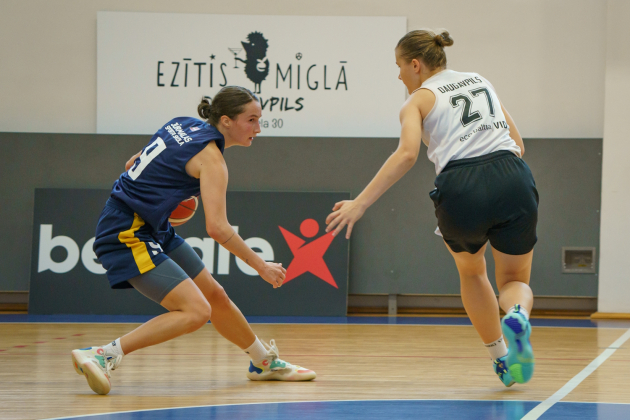 This time, TTT-Riga defeated RSU 73:55 (22:12, 17:12, 20:10, 24:11), but demonstrated its superiority only in the second part of the game. RSU started the game strongly, leading 28:12 in the second quarter.
However, RSU players got stuck, and a few minutes later, the teams were separated by only 3 points (32:29).
In the middle of the third quarter, TTT-Riga managed to equalize the score at 38:38 and then surged ahead. From that moment, the champions did not look back and firmly won the game.
RSU: Anita Mikelsone - 13, Liza Cumika - 9, Paula Cirsa - 9.
TTT-Riga: Dekeiya Cohen - 18, Evelina Otto - 16, Ieva Pulvere - 12.
Daugavpils University, in its second game, did not give Jurmala players a chance and won 68:49 (22:17, 19:17, 18:7, 9:8).
The hosts gradually increased their advantage, winning all quarters, and after three quarters, they had a 18-point lead (59:41), which they maintained until the end of the game.
Daugavpils University: Kinga Piedel - 26, Valerija Baranovska - 19.
Jurmala: Zozefine Sipolina - 18, Nikola Ozola - 16.
In the third game, Liepaja/LSSS opened the season triumphantly, defeating Riga Juniores/LU 79:57 (23:12, 13:12, 18:17, 25:16) on the road.
The visitors took an early lead of 15:1, and the young opponents could not close the gap until the end of the game.
Riga Juniores/LU: Katrina Kalnina - 10, Liva Hermane - 10.
Liepaja/LSSS: Madara Smite - 20, Raivita Korenika - 15, Enija Kivite - 13, Sabine Lipe - 10.